**National Coronavirus Survey**
We are running a cross-Canada survey to better understand the social dimensions of the Coronavirus outbreak and to help inform response efforts.
If you receive a postcard inviting your participation, we'd really appreciate it if you fill out the survey at the link you've received.
[April 14, 2020: We've released the first round of results on risk perceptions, trust, impacts, and responses to COVID-19 in Canada! You can read them and download the full report here or by clicking the image below: http://dx.doi.org/10.6084/m9.figshare.12121905. Full top-line results to follow and will be linked here.]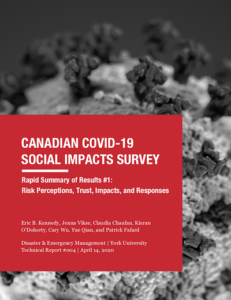 If you want to receive updates about what we find, please email ebk@yorku.ca.
If you're a practitioner, you can learn more here about how to help us collect the data you want.
If you're an international researcher, you can learn more here about how collaborate.
*********
The CEMPPR Lab (Collaboration on Emergency Management, Policy, and Preparedness Research) is a research group within York University's Disaster and Emergency Management Program dedicated to improving how we prepare for, respond to, and manage emergencies. We emphasize action research, where our projects are driven by the needs of real-world practitioners and produce both new knowledge and tangible impacts for communities. We mentor and support a diverse community of trainees, and partner with students, academics, practitioners, and community members.
Our lab is dedicated to advancing high-quality research methods and evidence-based decision-making within the field of Disaster and Emergency Management.
Current projects include a large-scale, national survey on COVID-19 in Canada; systematic reviews on barriers to individual wildfire preparedness; empirical research to better understand how perceived vulnerability affects preparedness and evacuation; and a meta-review of ethical issues in wildfire management. The lab is also in the midst of launching the Emergency Management Evidence Project, an effort to mobilize and translate existing disaster research into actionable syntheses.
The lab is directed by Dr. Eric Kennedy. Membership includes graduate and undergraduate researchers at York University and elsewhere, as well as affiliate members who contribute to mentoring students, collaborating on research, and advising the Evidence Project.